What if getting healthy meals on the table wasn't so stressful and time-consuming?
....what if you didn't have to wonder what in the world to cook for dinner tonight?
....didn't have to stress about whether or not what you're fixing is healthy and nourishing for you and your family?
....didn't have to take hours planning out meals for the week, making grocery lists, and shopping for those groceries?
....what if you could spend less than an hour in the kitchen each day and STILL provide healthy meals that will help your family feel their best!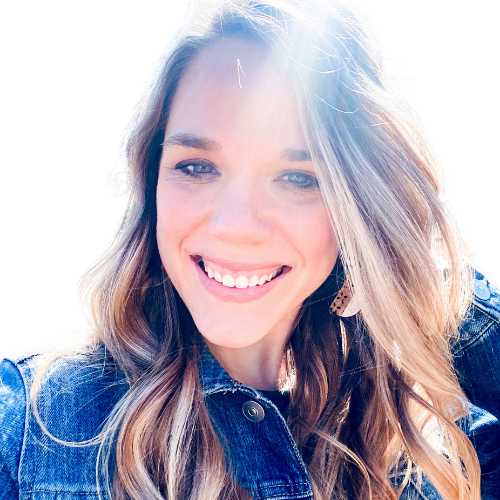 I'm a mom of 2 active boys, wife, and full-time teacher turned Certified Holistic Nutritionist.
As a busy mom and (recovering) Type-A perfectionist, I understand COMPLETELY the stress that goes into meal planning, packing lunches for everyone, trying to eat something for breakfast before rushing out the door in the mornings, and getting healthy dinners on the table in the midst of homework, cleaning, and ALL THE THINGS!
My stress was high, my diet was not the best, and my health suffered. On came the eczema, hormone imbalance, and major fatigue!
Thankfully, I've since learned how to nourish my body properly with real, whole foods and put things in place to keep the stress down.
One thing that's tremendously helpful for me is planning my meals. Having a plan in place makes one less decision to have to make on a daily basis and makes healthy eating so much easier!

Enter Real Food Made Easy
That's where my cookbook, Real Food Made Easy comes in!
Meal planning is ESSENTIAL to healthy eating and helping things run smoothly in the home!  Without a plan in place, you're more likely to turn to fast food and freezer meals when the hunger strikes.
I'm all for listening to your body! If you're craving something salty, that's your body telling you you need salt! But, there's good, nourishing ways to feed cravings, and there's not so nourishing ways.
However, when you're eating regularly with balanced meals like the ones in this cookbook, you're less likely to get all those cravings. You'll be nourishing yourself well! Besides breakfast, lunch, and dinner plans, there are also recipes for snacks and desserts you can fix when you need a little something salty or sweet to hit the spot.
Meal planning
done for you!
Not only does meal planning help you stick to healthy foods, but it also helps you stick to your budget. The grocery lists are already written for you. Just print them out, take them in the grocery store with you, and stick to them. You'll be less likely to spend money on foods you don't actually need and won't use.
Also - no one-off ingredients here. You'll be using many of the same ingredients for different recipes to help you save money and contribute to less food waste!
I've done the work already for you, so you can sit back and relax some. This cookbook is definitely not JUST a cookbook!
Less time spent
in the kitchen!
What's included?
4 weeks worth of meal plans - breakfasts, lunches, and dinners all planned for you!
Grocery lists for each week organized by category!
A pantry staples list - just hang it in your pantry and add anything from the list you need to your weekly grocery list!
A shopping guide to help you identify good, better, and best quality foods and get the most nutritious foods that fit your budget!
Meal prep lists with ideas to help you prep a little ahead of time and save time on weeknights!
78 nutrient-dense recipes
13 breakfasts
5 snacks
11 lunches
21 dinners
9 side dishes
14 condiments
5 desserts
A guide to properly preparing food - learn tips and tricks for reducing anti-nutrients, aiding digestion, and getting the most bang for your buck in your food!
What People Are Saying
"Brittany has done an amazing job on this book. It is much more than a cookbook. It has everything you need to not only make delicious, healthy meals, but the meal planning and grocery lists are great added benefits to this cookbook. Brittany has taken all of the "hard work" out of what to cook that's not only healthy but also good tasting."
-Cheryl S.
We are LOVING these meals. We did the fish tacos last night and the kids thought it was cool we were eating a rainbow.. so many colors. We've done all of our meals this week straight from your cookbook and I've noticed a lot of them are relatively dairy free. Or in a recipe I would typically use butter, you call for coconut oil and that's something I had never considered before. 🤷🏻‍♀️ my stupid scale finally started moving in the opposite direction and I'm fairly certain it's because of the lower dairy intake!
-Cierra B.
Healthy meals to nourish your body and help you feel great!
4 weeks of done-for-you plans for breakfast, lunches, and dinners!
easy-to-follow recipes using real whole foods!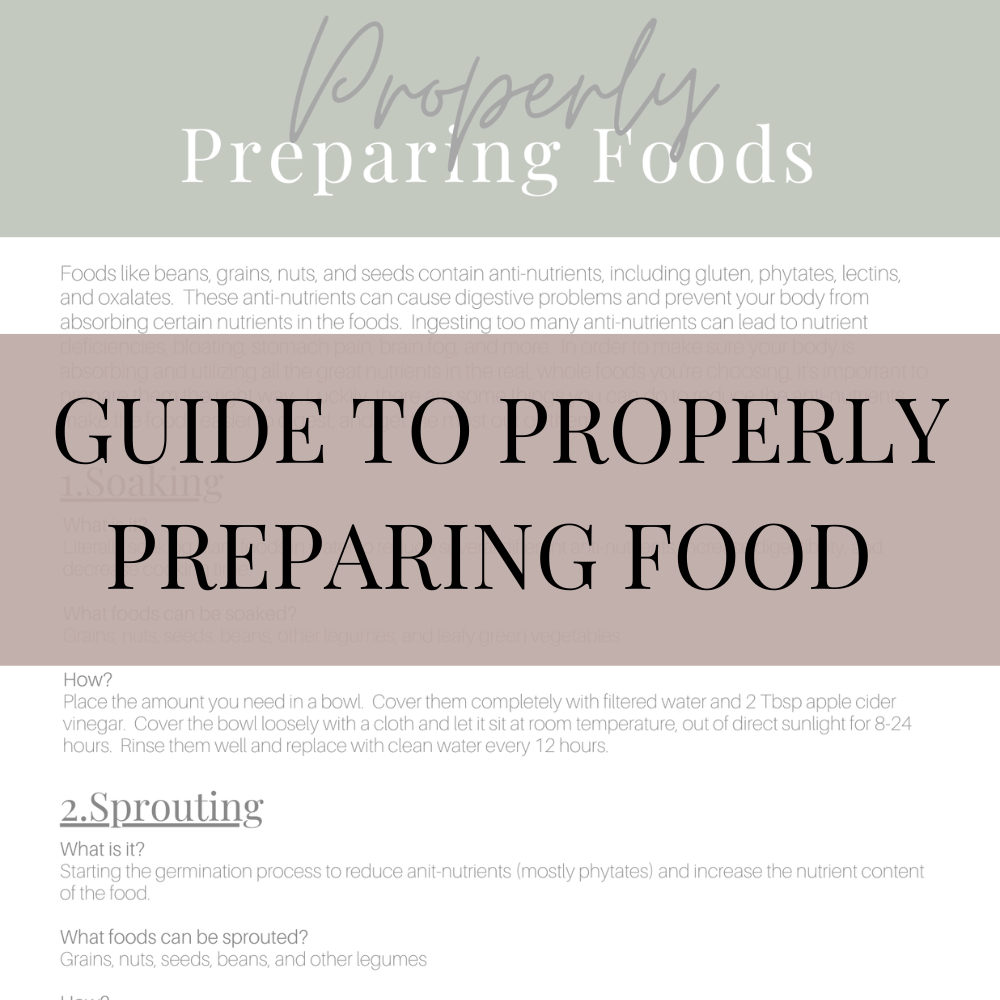 Guide to Properly Preparing Food
tips and tricks for reducing anti-nutrients and getting the most nutrients you can from your food!
Ready to go grocery lists & pantry lists!
Are these recipes allergy friendly? - yes! All recipes are gluten-free, except for sourdough bread which is fermented and has significantly less gluten in it. Most recipes are nightshade-free, but, if not, substitutions are noted. Dairy-free and peanut-free substitutions are noted as well. These recipes only use real foods - so common allergens like food dyes and MSG will not be here! No highly processed, chemical-laden foods here.
How long do the meals take to cook? - if you do the meal prep on the meal prep list each week it will take roughly 1 hour of prep on the weekends, and around 10 minutes for breakfasts, 10 minutes for lunches, and 30 minutes for dinners.
How much meal prep is required? - none! The great thing is that healthy cooking doesn't have to be hard or time-consuming. If you don't have time to prep anything on the weekend, no worries! But prepping a little bit ahead of time will save time in the kitchen each day. I suggest at least prepping something for breakfast and lunch for the week so you can grab a lemon cranberry muffin on the go or pack some chicken salad for lunch real quick if you're in a hurry.
What do you mean by REAL food? Isn't all food real? -

no! When I say "real food" I'm talking about food made by God, not made in a factory. Made BY a plant, not IN a plant. Think fruits, vegetables, properly raised meat, good quality dairy, eggs, and some nuts, seeds, and whole grains. No highly proccessed foods, inflammatory oils, artificial food coloring, or artificial sweeterners here. There are some condiment items you may want to buy, but I have several condiment recipes included that you can make yourself to ensure they're made with quality ingredients. If you have 5 minutes to spare, make your own mayo! It's so simple, only requires 4 ingredients, and is SO much healthier when you make it yourself. Make homemade real food doesn't have to be hard or time-consuming!

Do you have calories and macros included in the recipes? - no. In my opinion, counting and tracking macros is not necessary. It's way too time-consuming and can lead to an unhealthy relationship with food. Food is meant to nourish us and make us feel good. Not to feel guilty because we went over our goal by 50 calories or we can't get our macros perfect! It can lead to stress, which can have the opposite effect most of us are going for - our body holding onto weight.
Will I lose weight following these meal plans? - I can't answer that for you. That depends on several things, like what you're currently eating, your activity, and your metabolism. If you're coming from more of a standard American diet, switching to eating real, whole foods will have a big impact on your health and will most likely lead to some weight loss. However, my focus is not on helping people lose weight. I want you to nourish your body, have energy, and feel your best!

Weight loss may be an added bonus, but, again, I'm not promising that.

Will I receive a cookbook in the mail?

- no. At this time the cookbook is only digital. You can save it to your computer, tablet, or phone and open it up as needed. Or if you prefer a printed version, feel free to print it out and keep it in a 3-ring binder or have it printed and bound at your local Staples or Office Depot.